BLANK SPACE STORY
There is an undeniably transformative element to the power of public art.
Public art is many things, but at its core, it is an intervention into space. It reclaims and recovers our public spaces from the grasp of homogenous and mundane development. It battles against the often-demanding voices of consumerism, beckoning us to dream instead of just buy. It brightens our blight, and champions our communities. Public art can showcase collective neighborhood identities, and boost the growth of local economies. Public art is more than paint on a wall.
We at Blank Space Bham want to reclaim public space for you, the public. We want to invite you to think about where we as a city have been, and dream of where we are going. We want you to remember why you love Birmingham, why you chose to invest here, and why you make this place your home. We believe we can achieve these things through the power of art. Where you see a blank space, an ordinary wall, we see opportunity. We see a narrative.
It is our goal to create and advocate for projects by Birmingham muralists that inspire you to not just live in the magic of our city, but to BE the Magic. We joined our individual dreams into a collective desire to move our city forward– acknowledging our past, challenging our present, and reshaping the future. Help us change the narrative of Birmingham.
MISSION
Blank Space Bham seeks to reclaim public space, strengthen communities, foster creativity, and advocate for the (re)development of inclusive urban environments through the transformative power of public art.
Strengthen Communities
Art is a catalyst for social change. When we unite around common goals to make our communities the best versions of themselves, we not only draw nearer to one another, but we also grow stronger. We believe public art should be accessible, and inclusive. It is our goal to ensure a diverse cross-section of community voices are represented in projects from start to finish.
Foster Creativity
Supporting and cultivating local artists is extremely important to us. Birmingham is home to a treasure trove of incredibly gifted people and Blank Space wants to tap into those gifts, fostering a community of creatives that not only share their art, and fine tune their skills, but also helps inspire others in the collective (and city!) to be better.
(Re)develop Urban Spaces
Often times when asked to think of public spaces, our brains are led to envision lush parks and sprawling plazas. We seldom let our minds wander to back alleyways, downtown streets, or city sidewalks. We at Blank Space B'ham want to highlight the potential of these often highly contested and overlooked parts of our community by bringing color and life!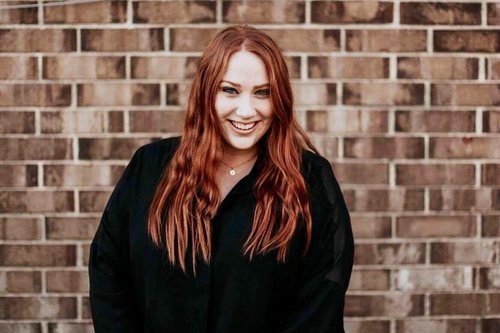 Founder & Executive Director, Meghan McCollum
As an urban geographer, Meghan has a passion for studying the great successes of our collective urban consciousness. Drawn to the powers of open source urban design, Blank Space was born from her desire to elevate art's role in tactical urbanism.
A believer in strong community, she feels public art should be a reflection of a city's people and used as a tool to create accessible, inclusive spaces. WIth a love for storytelling and creative placemaking, she marries her interests by dreaming up ways the Blank Space team can engage more directly with the community. As Founder and Executive Director, Meghan manages public relations and social media for the organization as well as serves as initial liaison for future project consultations.